Still Manually Cleaning the PV Modules? It is Time to Move Forward!
On August 8th to10th, the SNEC 14th (2020) International Photovoltaic Power Generation and Smart Energy Conference & Exhibition (SNEC PV POWER EXPO) was held in Shanghai, China. With the characteristics of high reliability, high efficiency, and high intelligence, SUNPURE, Sungrow's eco-chain enterprise, showcased its first generation of self-developed PV intelligent cleaning robot "PR100", which made a stunning appearance and attracted the attention of many industry insiders. China Three Gorges Renewables,Arctech Solar Holding, TUV Süd, and CGCC expressed their congratulations and affirmed the performance of the product at the launch event.

As a superstar in the field of PV intelligent cleaning robots, PR100 relies on SUNGROW's intelligent energy management platform and PV power plant inspection platform and integrates advanced technologies such as intelligent four-wheel drive, posture recognition and control, position recognition and Internet of things, which can realize the module's cleaning and maintenance intelligently and efficiently. According to the introduction of the product leader at the launch event, PR100 has independent self-powered energy and multiple safety protection, and the control system protection level reaches up to IP65, the protection level of the power system also reaches IP54, which enables the stable operation in various complex application scenarios and harsh environments such as high temperature, heavy dust, big wind, acid, and alkali.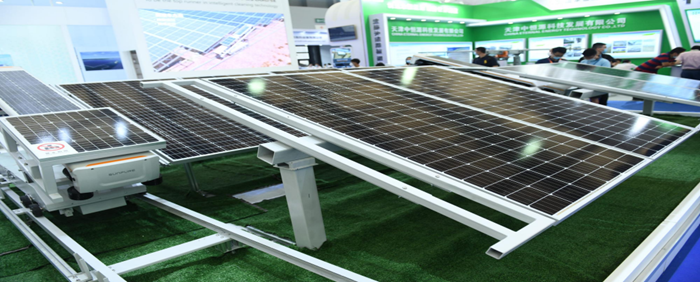 From the site display of the ferry car solution, the product has achieved cross-row cleaning, which can significantly reduce the system deployment costs, but also effectively solve the problems of many rows of arrays and short individual strings, to help owners save operation and maintenance costs, improve power station generation efficiency, thereby reducing the cost of photovoltaic electricity, and provide a reliable guarantee for project profitability.
With the advent of the era of PV price parity, power plant owners generally emphasize less manned or even unmanned operation to reduce production and operation costs. In such a situation, the cleaning robot will become an important weapon for intelligent and efficient operation and maintenance of PV power plants, playing an irreplaceable role in reducing the cost of electricity and improving the efficiency of power generation. Renjie Intelligence said that the company's first generation of intelligent cleaning robot PR100 has been put into use in a number of power plant projects, and its product stability and cleaning effect has been praised by customers.