SUNPURE signs strategic Robotic Cleaning Solution contract for 300 MW Tracker based Project with AMP Energy India
SUNPURE signed the contract for the supply of Sunpure's water-free robotic cleaning systems for 300 MW AMP Energy India.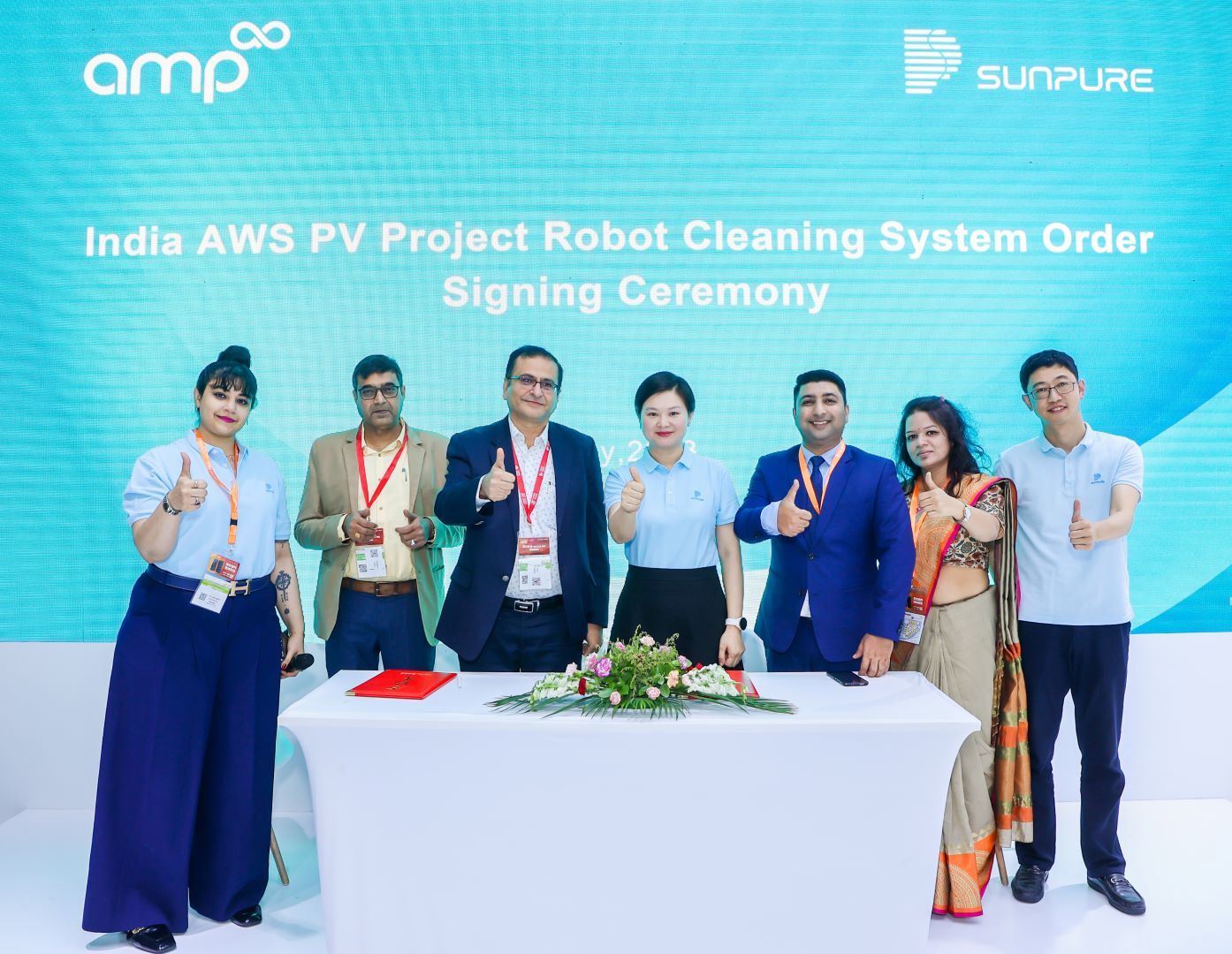 The contract includes the supply of Fully Automatic & Semi-Automatic Advanced versions of SUNPURE robotic cleaning systems for 300 MW which will be installed with 1 P Single Axis Trackers in Rajasthan, India. The robotic cleaning systems are scheduled to be commissioned in Q4 2023.
AMP Energy India is one of the few developers that have the capability to provide diversified solutions to its customers in niche segments (Solar, Hybrid, Floating Solar) on a large scale. Having the backing of leading international institutional investors such as LGT Lightrock, CIP, SMBC, CBRE Caledon and CIIF/Kotak. With a unique capability to straddle Utility Scale RE projects, Power Markets, Battery Energy Storage and C&I RE projects in India and beyond, Amp Energy India is well on its way to reaching a 5 GWp portfolio in next 5 years.
Sunpure Intelligent Technology Co., Ltd. (Sunpure), headquartered in Hefei, China, is the leading PV Cleaning Robotics supplier. Established in 2019, Sunpure has continuously optimized and promoted global service by setting up branches and offices in China, KSA, UAE, Australia, Chile, India, and other regions. Sunpure has been concentrating on consistently providing convenient, reliable, and innovative solar module cleaning robotic solutions which are compatible with all industry-leading modules and mounting/tracking systems suppliers over the past years. SUNPURE has signed PV Cleaning Robot for a cumulative 8GW+ globally.